The wait is over: DuckDuckGo for Mac beta now open to the public!
Enjoy browsing again with a fast, sleek browsing app that cleans up the web as you use it, thanks to DuckDuckGo's unique built-in privacy protections.
New since the closed beta: Duck Player, a YouTube player that helps protect your privacy; password management integration with Bitwarden; upgraded automatic cookie pop-up handling; instant access to built-in Email Protection; and more.‌‌‌‌
DuckDuckGo for Mac (version 0.30) is available now at duckduckgo.com/mac; new users can import bookmarks and passwords from other browsers and password managers. DuckDuckGo for Windows is in friends and family beta, with a public waitlist beta expected in the coming months.
Calling all Mac users: the DuckDuckGo for Mac beta is now open.
Forget going "incognito" with other browsers that don't actually deliver substantive web tracking protection; you deserve privacy all the time, with built-in protections that make the Internet less creepy and less cluttered. Equipped with new and improved features for everyday use, DuckDuckGo for Mac is here to clean up the web as you browse.  (And yes, you can import all your passwords and bookmarks from other browsers and password managers – so switching is quick and easy!)‌‌‌‌
The privacy protections built into DuckDuckGo for Mac add up to a better user experience; by blocking trackers before they load, for example, DuckDuckGo for Mac uses about 60% less data than Chrome. The desktop app includes the built-in privacy protections you know and trust from our mobile apps – which now see over  50M downloads a year – including multiple layers of defense against third-party trackers, secure link upgrading with Smarter Encryption, and our Fire Button to instantly clear recent browsing data. An all-in-one app that aims to be the "easy button" for privacy, DuckDuckGo for Mac has no fiddly privacy settings to adjust – our foundational protections are on by default, so you can get back to browsing.
‌‌‌‌‌‌Since announcing the waitlist beta in April, we've been listening to beta testers' feedback and making even more improvements to meet your needs. We added a bookmarks bar, pinned tabs, and a way to view your locally stored browsing history. Our Cookie Consent Pop-Up Manager can now handle cookie pop-ups on significantly more sites, automatically choosing the most private option and sparing you from annoying interruptions.
Keep pop-ups at bay with our automatic cookie consent manager
The app also lets you activate DuckDuckGo Email Protection on desktop, protecting your inbox with email tracker blocking and private @duck.com addresses. While we work on browser extension support that meets our high standards of privacy and quality, we're building in more features that meet the same needs as the most popular extensions: ad-blocking and secure password management. These new features will become available across our other platforms in the near future.
See what our new features can do
Cleaning up YouTube with Duck Player – fewer creepy ads, fewer distractions: Want a more-private way to watch YouTube videos in peace? Duck Player protects you from targeted ads and cookies with a distraction-free interface that incorporates YouTube's strictest privacy settings for embedded video. Any ads you see within Duck Player will not be personalized; in our testing, this prevented ads on most videos altogether. YouTube still registers your views, so it's not totally anonymous, but none of the videos you watch in Duck Player contribute to your YouTube advertising profile or suggest distracting personalized recommendations. The feature can be always-on, ready to go whenever you click a YouTube link, or you can opt in on specific videos – perfect for when you're sharing your screen, using a shared device, or just trying to stay focused. It's equally easy to get back to the default version of YouTube whenever you want.
Open YouTube links in Duck Player for more-private viewing‌‌‌‌
Eliminating invasive ads as you browse‌‌: DuckDuckGo for Mac has always blocked invasive trackers before they load, effectively eliminating the ads that rely on that creepy tracking. (Because so many ads work that way, you'll see way fewer ads.) Today, we've made another big improvement: we're cleaning up the whitespace left behind by those ads for an efficient, distraction-free look without the need for a separate ad blocker.‌‌‌‌
More choices for secure password management: Our browser includes our own secure and easy-to-use password manager that can automatically remember and fill in login credentials and suggest random passwords for new logins. (It can also securely save addresses and payment methods.) Our autofill experience is continually improving and will roll out on our mobile apps soon. ‌‌‌‌
This works for most users, especially since you can import passwords. But we understand some folks want to continue using third-party password management across browsers and devices. So, we've teamed up with Bitwarden, the accessible open-source password manager, in the first of what we hope to be several similar integrations. In the coming weeks, Bitwarden users will be able to activate this seamless two-way integration in their browser settings. DuckDuckGo for Mac is also compatible with 1Password's new universal autofill feature.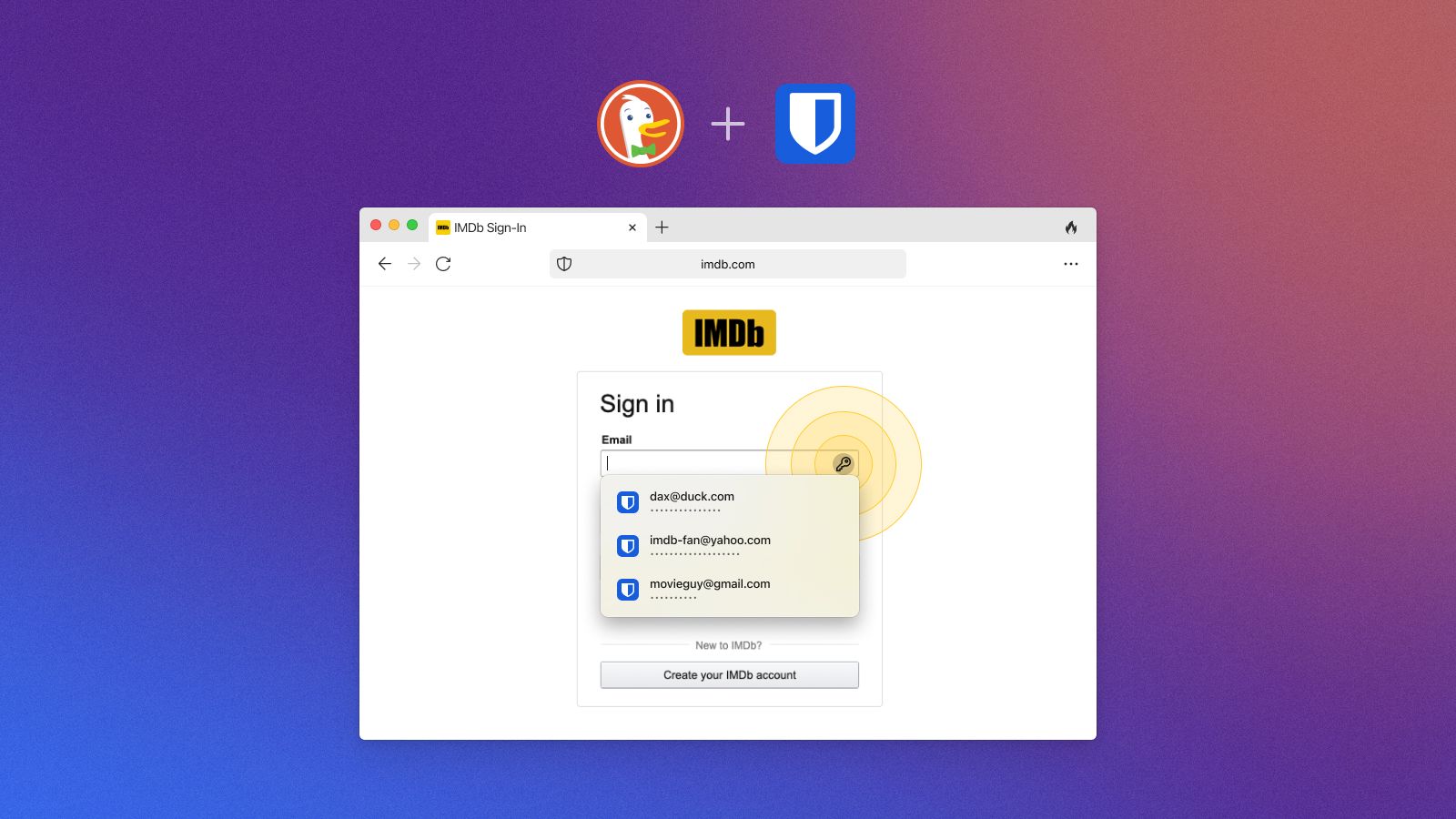 Easily autofill your Bitwarden passwords in DuckDuckGo for Mac
What early users are saying about DuckDuckGo for Mac:
"The DuckDuckGo browser has been a breath of fresh air, a lightweight and snappy browser that isn't a gamified gimmick and doesn't sell my browsing history to advertisers. Its clean and familiar UI allowed me to switch with no hassle. I would definitely recommend more people switching as soon as they can."‌‌‌‌‌‌‌‌
"The automatic cookie settings feature is awesome!!!"
‌‌‌‌‌‌‌‌"I love the UI of this app! Very clean and minimalist. Also, it really is blazing fast. I appreciate the careful consideration into design and performance with the use of the internal rendering engine. Thank you for all your work!"‌‌‌‌‌‌‌‌
"DuckDuckGo is replacing Google Chrome on my Mac and I love it."
‌‌‌‌‌‌‌‌"I've been using [DuckDuckGo for Mac] for several months and I have to say, I love the simplicity and privacy. We've tossed a lot of stuff into browsers over the years to get privacy and speed. This achieves both with much less."‌‌‌‌
What's under the hood – and what's next‌‌
We built DuckDuckGo for Mac with privacy, security, and simplicity in mind. Our default privacy settings are stronger than what most other browsers offer, and you don't need to sift through obscure menus to turn them on. DuckDuckGo for Mac is not a "fork" of Chromium, or any other browser code. All the app code – tab and bookmark management, our new tab page, our password manager, etc. – is written by our own engineers. For rendering, it uses a public macOS API, making it super compatible with Mac devices.  DuckDuckGo believes in open sourcing our apps and extensions whenever possible, and we plan to do so for DuckDuckGo for Mac before it moves out of beta.‌‌‌‌‌‌‌‌
We're proud of how far DuckDuckGo for Mac has come in this short time, and it will only get better from here! Users will soon be able to sync DuckDuckGo bookmarks and passwords across devices. We'll also be adding more built-in features that offer native alternatives to more popular extensions. Please keep the feedback coming; we're listening! (You can find the feedback form in the app's three-dot menu, right under the Fire Button.)‌‌‌‌
Before you ask, yes, our Windows browser is still on the way! DuckDuckGo for Windows is in an early friends and family beta, with a private waitlist beta expected in the coming months. (Right now, Mac and Windows are the only desktop platforms we're focusing on.) Stay tuned for updates. And if you're interested in working on our desktop apps, we're hiring remotely, worldwide.
‌‌‌‌