DuckDuckGo Expands Use of Apple Maps for Enhanced Search With the Same Commitment to Privacy
In our quest to provide the best experience for local searches, earlier this year we announced that we're now using Apple's MapKit JS framework to power our mapping features. Since then, we've been continually working hard on further enhancements and we're excited today to show you some new improvements.
Map Re-Querying
Whereas previously each new map-related search required returning to a regular DuckDuckGo Search page, now it's possible to stay in our expanded map view where you can refine local searches instantly. This is useful for limiting generic searches like "restaurants" to a specific area. Similarly, moving around the map or zooming in and out will enable you to update your search to include places within the field of view. For example, try a query such as "coffee shop" and zoom in on the map to refine your search.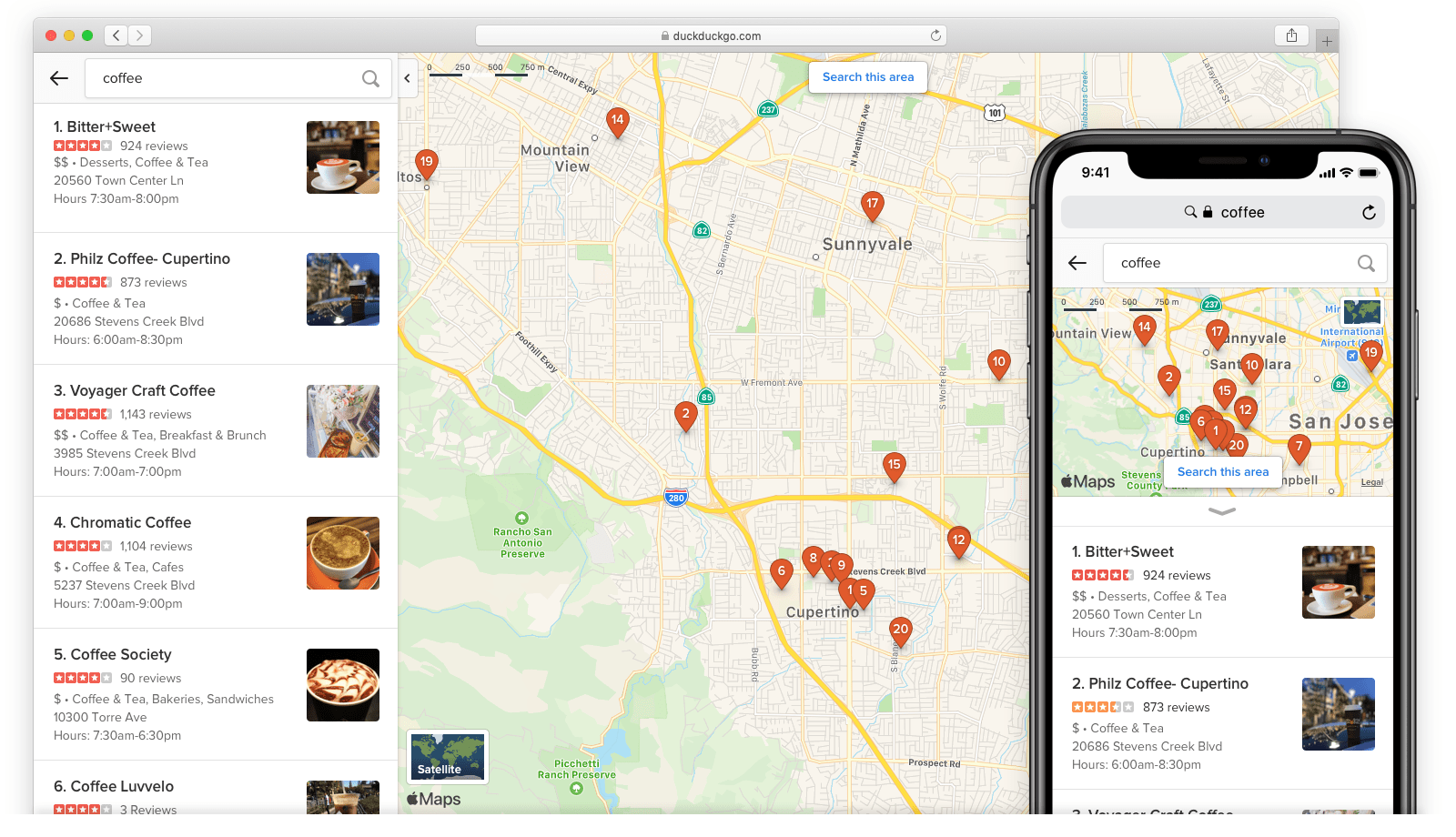 Local Autocomplete
Another time-saving enhancement is intelligent autocomplete within the expanded map view. Updating or typing new search queries will now dynamically show you search suggestions that are tailored to the local region displayed. For example, as you type "coffee" we'll show you search suggestions related to coffee within the map area in view, rather than somewhere else in the world.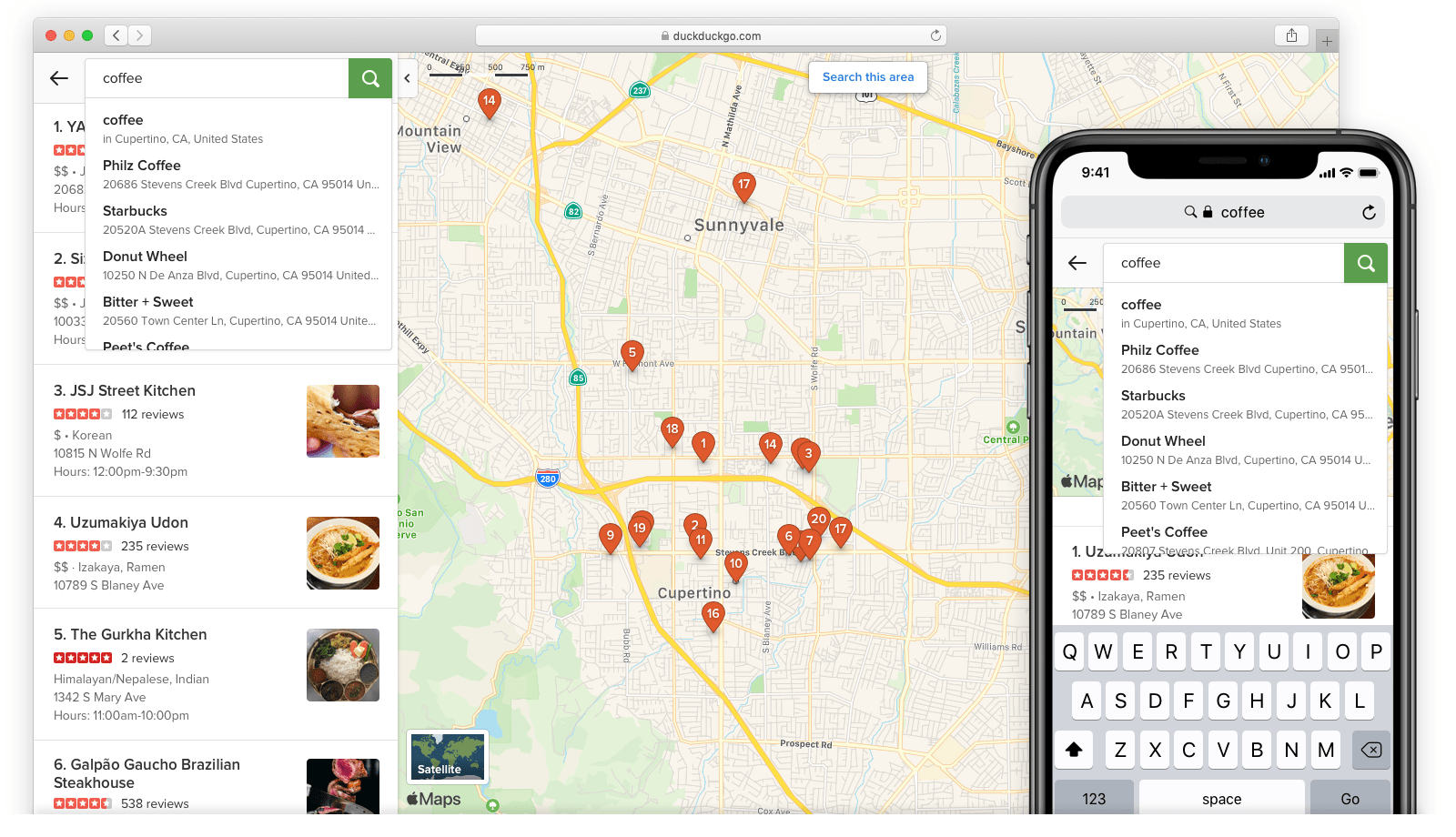 Dedicated Maps Tab
We now show a dedicated Maps tab at the top of every search results page. Previously we did this only for searches that we assumed were map-related, but for broader coverage you'll now consistently see Maps alongside Images, Videos and News. For example, an ambiguous query such as "cupcakes" will give you the option to open the Maps tab, showing local places to enjoy delicious cupcakes.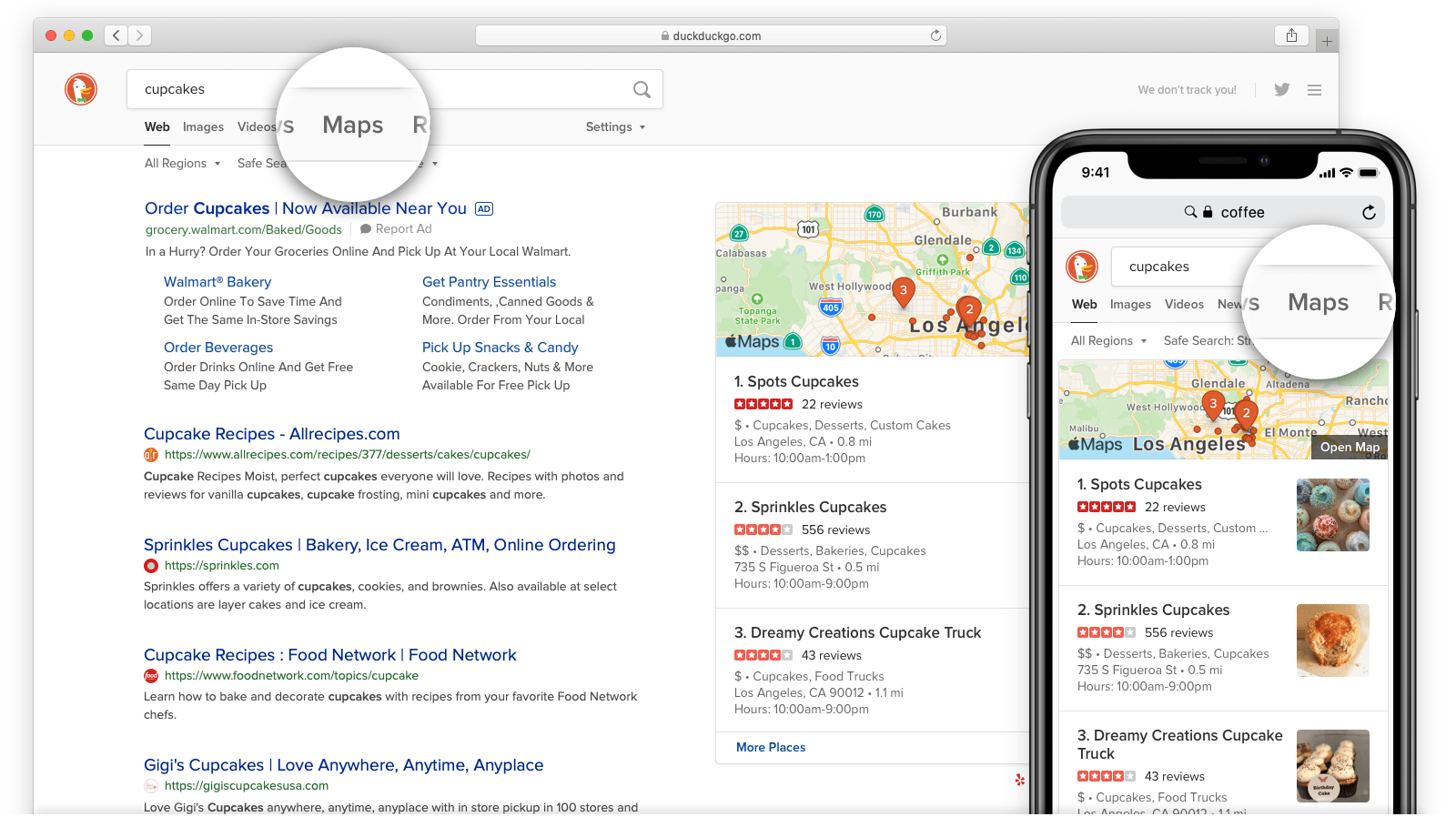 Dark Mode
What about dark mode, you ask? We're pleased to say that when switching to DuckDuckGo's popular dark theme, Apple-powered maps now seamlessly switch to dark mode for a coherent look, whether you use it all the time or just for glare-free searching at night.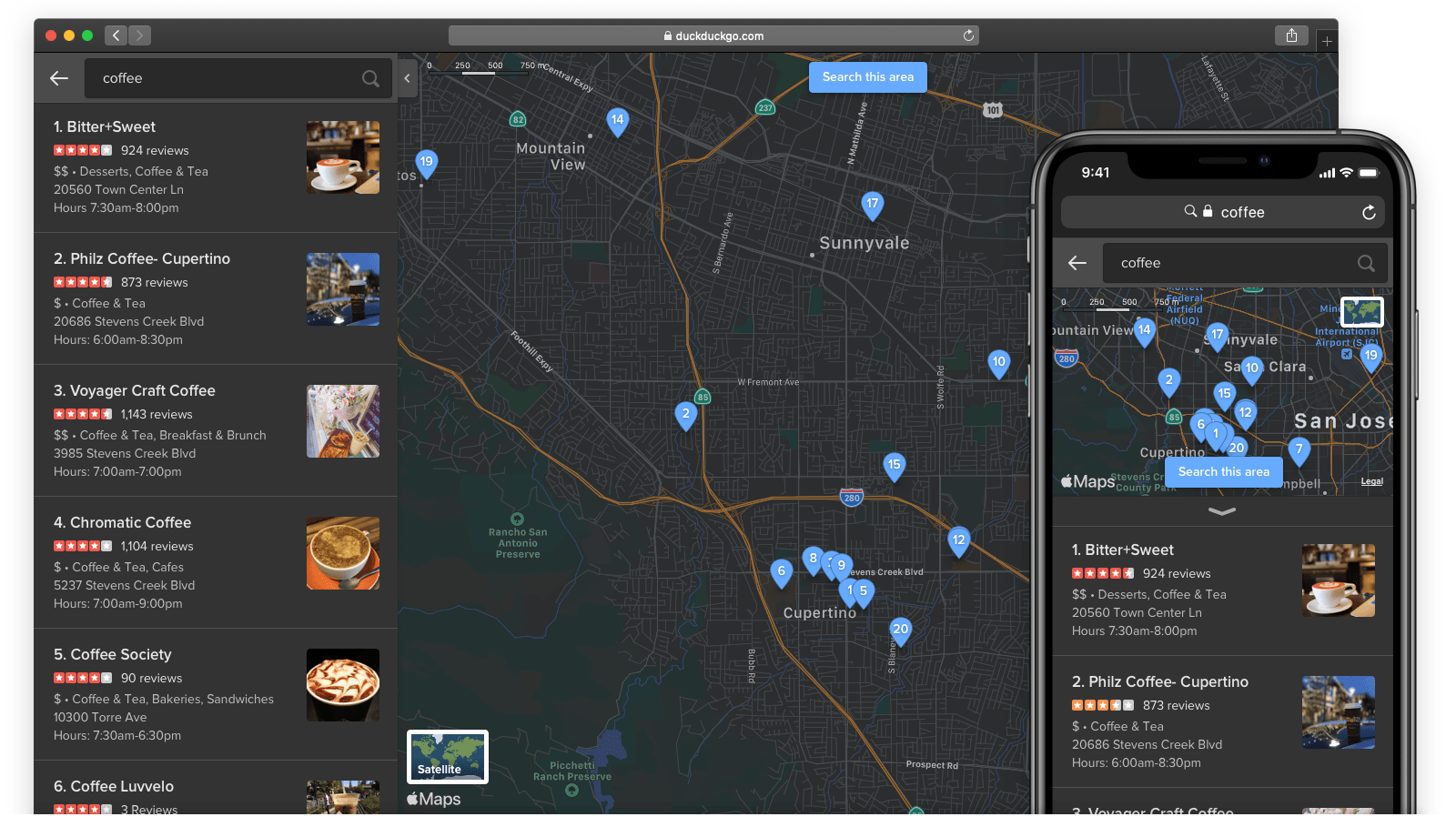 A lot has changed with using maps on DuckDuckGo making it an even smoother experience, but what hasn't changed is the way we handle your data—or rather, the way we don't do anything with your data. We are making local searches faster while retaining the privacy you expect.
How do we ensure your privacy when performing map and address-related searches? With Apple, as with all other third parties we work with, we do not share any personally identifiable information such as IP address. And for local searches in particular, where your approximate location information is sent by your browser to us, we discard it immediately after use. This is in line with our strict privacy policy. You can read more about our anonymous localized results here.
We believe there should be no trade-off for people wanting to protect their personal data while searching. Working with Apple Maps to enhance DuckDuckGo Search is an example of how we do this, and pushes us further in our vision of setting a new standard of trust online.
---
For more privacy advice, follow us on Twitter & get our privacy crash course.