Join the $500,000 DuckDuckGo Privacy Challenge Crowdfunding Campaign
Help double our donations and support online privacy.
The campaign has now finished. Thank you to all those who donated and please continue to support these organizations that work for our privacy.
We're excited to announce that we're donating half a million dollars to non-profits that share in DuckDuckGo's vision of raising the standard of trust online, and we need your help!
Since 2011 we've donated $800,000 to projects that are working to spread Internet privacy, and this year we're taking it up a notch with the DuckDuckGo Privacy Challenge crowdfunding campaign. With your participation via donations and spreading the word, we could dramatically increase the amount of money that's donated to these amazing organizations.
Starting today, we're supporting more than 20 non-profit organizations through a massive privacy crowdfunding campaign hosted by CrowdRise, the world's biggest fundraising platform for charitable giving. Suggestions for the participating organizations were crowdsourced from you, the DuckDuckGo community, and all of these impactful projects either directly enable you to be more private online, or help defend your rights to online privacy. You can explore their work from the campaign page here: https://www.crowdrise.com/duckduckgoprivacychallenge.
How it works
From now through April 10th, we'll be running this friendly crowdfunding campaign for organizations committed to protecting the privacy of personal information on the Internet. The projects will compete for $500,000 in prizes to help further their missions.
In particular, we will match every donation received online by each participating organization, up to $3,000. We will also award 16 grand prizes, with $50,000 to the organization that raises the most money during the challenge. Finally, each organization can also benefit from weekly bonus challenges whose prizes total $247,000.
Your donations will directly impact the funding each organization can receive, hopefully leveraging our $500,000 to much more than we can achieve individually.
How you can help
It's easy to get started:
Visit the DuckDuckGo Privacy Challenge page, or view the individual profiles from the list below to support the work of these organizations.
Please spread the word to increase awareness of the DuckDuckGo Privacy Challenge. The more you share, the greater the impact we can all make for these wonderful organizations. You can share the CrowdRise challenge URL (https://www.crowdrise.com/duckduckgoprivacychallenge) with your network via email or on social media (with the hashtag #FundPrivacy2018).
If you make a donation, let your online community know about it and encourage them to consider doing the same.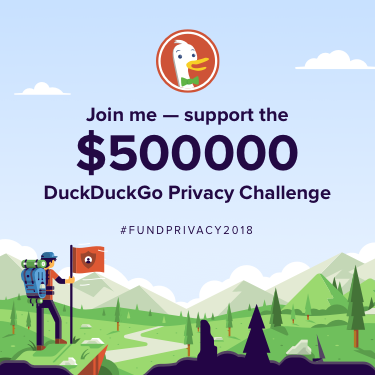 Over the next four weeks, we can make a huge impact together, ensuring better privacy for you, your family and friends, and Internet users worldwide. Thank you for your participation.
For more privacy advice, follow us on Twitter & get our privacy crash course.