DuckDuckGo Search Improvements: Past Year Date Filter, Dark Theme Refinements, and More!
While we've been busily improving our privacy protection ducklings — like DuckDuckGo Privacy Browser (for iOS/Android) and DuckDuckGo Privacy Essentials (for Firefox/Chrome) — we haven't been neglecting our first born — DuckDuckGo Private Search! In fact, quite the opposite — we've made several improvements recently that we're excited to share with you. They should make your searching not only more effective, but also a more pleasant experience, and still of course with our same strict commitment to privacy: no personal information is associated with your searches, such that you have no search history and therefore no search profiling or ads following you around based on your searches.
Drum roll... ???
Past Year Date Filter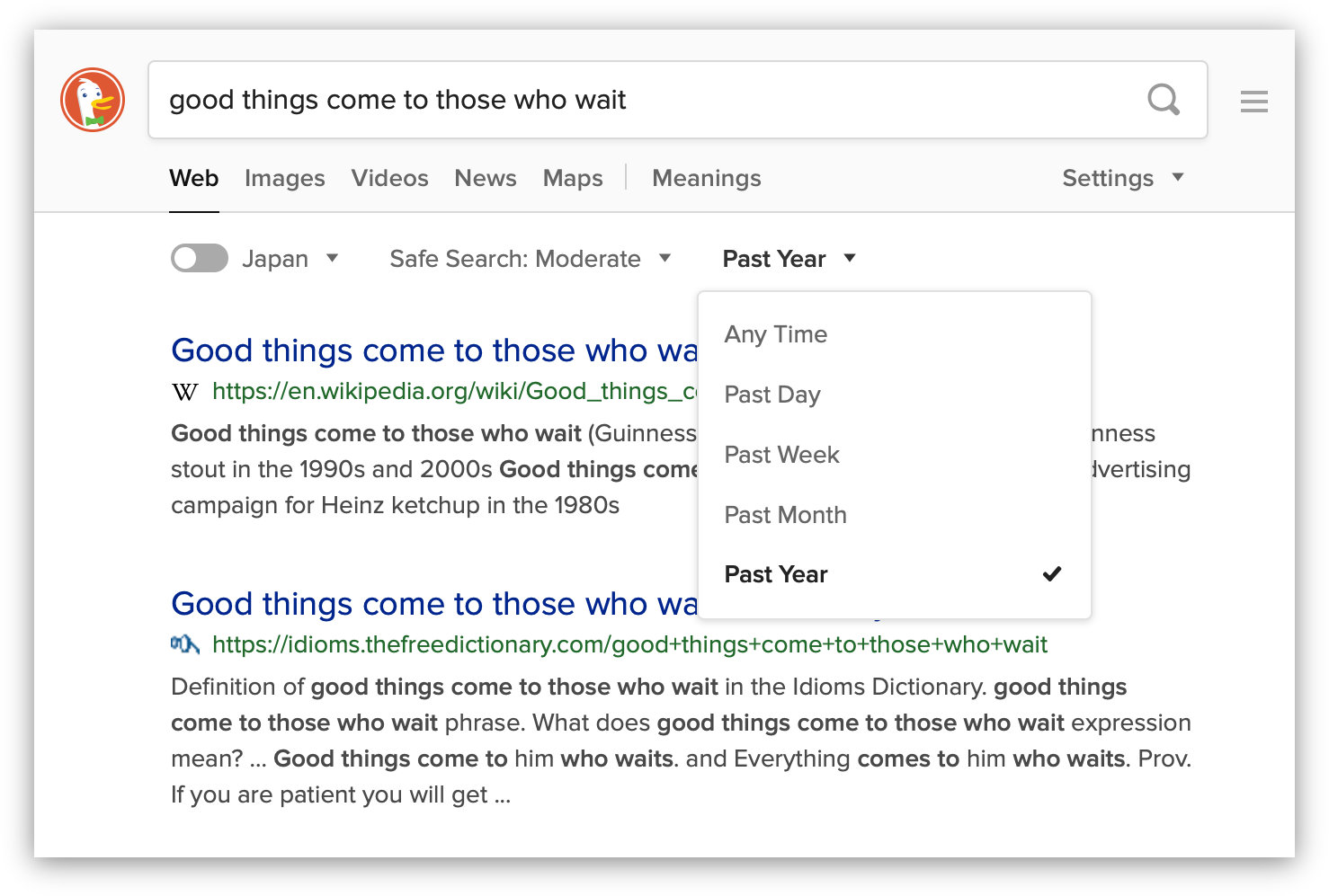 Our most requested feature is now ready for use! We've had date filters for a long time, but previously the maximum time length was one month. Now you have "past year" as a filter option — enjoy going back further in time.

Dark Theme Refinements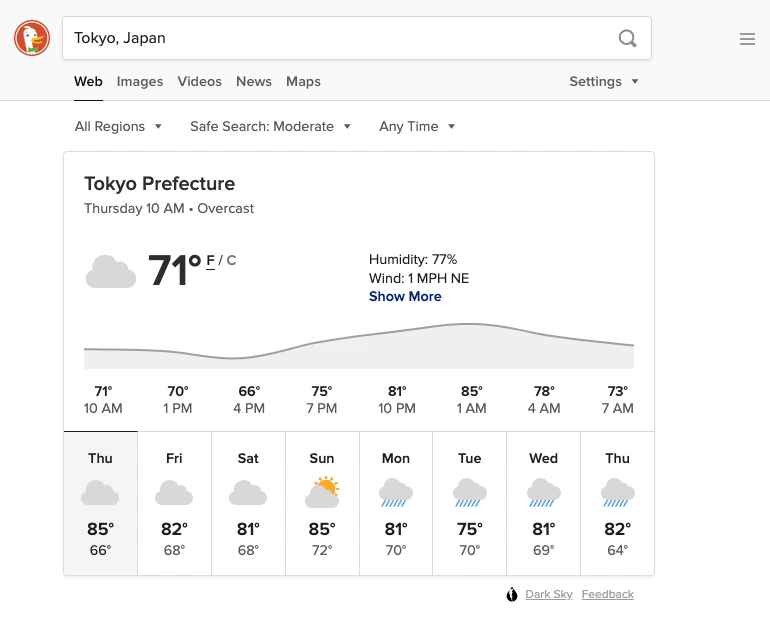 Our dark theme has proven to be very popular and so we've given it some love with various refinements for a much more comfortable and coherent feel. Check it out in the settings, where you can select it from our list of pre-made themes, or go crazy with your own visual customizations.
Servers in the Indian Subcontinent
We heard you — connecting to DuckDuckGo Search from the Indian subcontinent was slow. So, we added a lot of servers there, which provides a welcome and noticeable performance boost for users in that region.
For more details on each of these improvements, we had our team leaders answer some potential FAQs below.
---
Feature: Past Year Date Filter
I've been looking forward to being able to search by year for a long time! Why add it now?
It's been one of our most requested features and so we have been trying to find a way to add it for a while. It wasn't straightforward for us to do because we work with a variety of different partners to produce the anonymous search results you see on DuckDuckGo. With their help, we were finally able make it happen!
When doing time-limited searches, I sometimes can't see related news stories. How can I find those?
We have a dedicated News search tab on every search that you can click into if you want to see only news articles.

I'd love to also be able to filter by e.g. 6 months, or between specific dates. Is that possible?
Not currently, but we may add it in the future.
Are there any other search filters that could help me find things even faster?
One that is very popular outside the US is our region filter. Unlike other search engines we don't force you into using a search experience that is specific to your local country/region. Instead you can use our region filter and search as if you were anywhere in the world!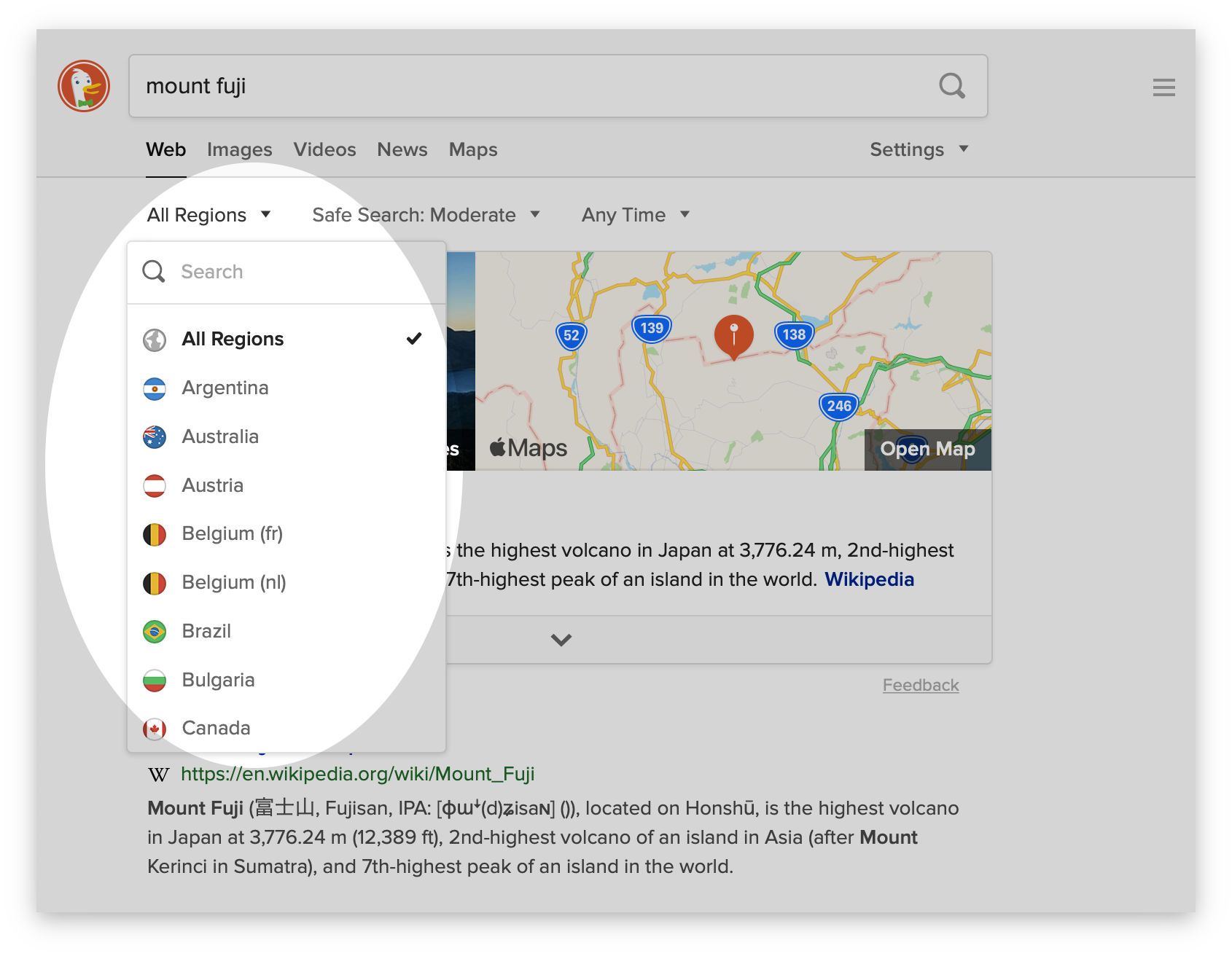 We also have a lot of great filters in our image search. If you're looking for large, wide, blue, photographs of the moon, we can do that!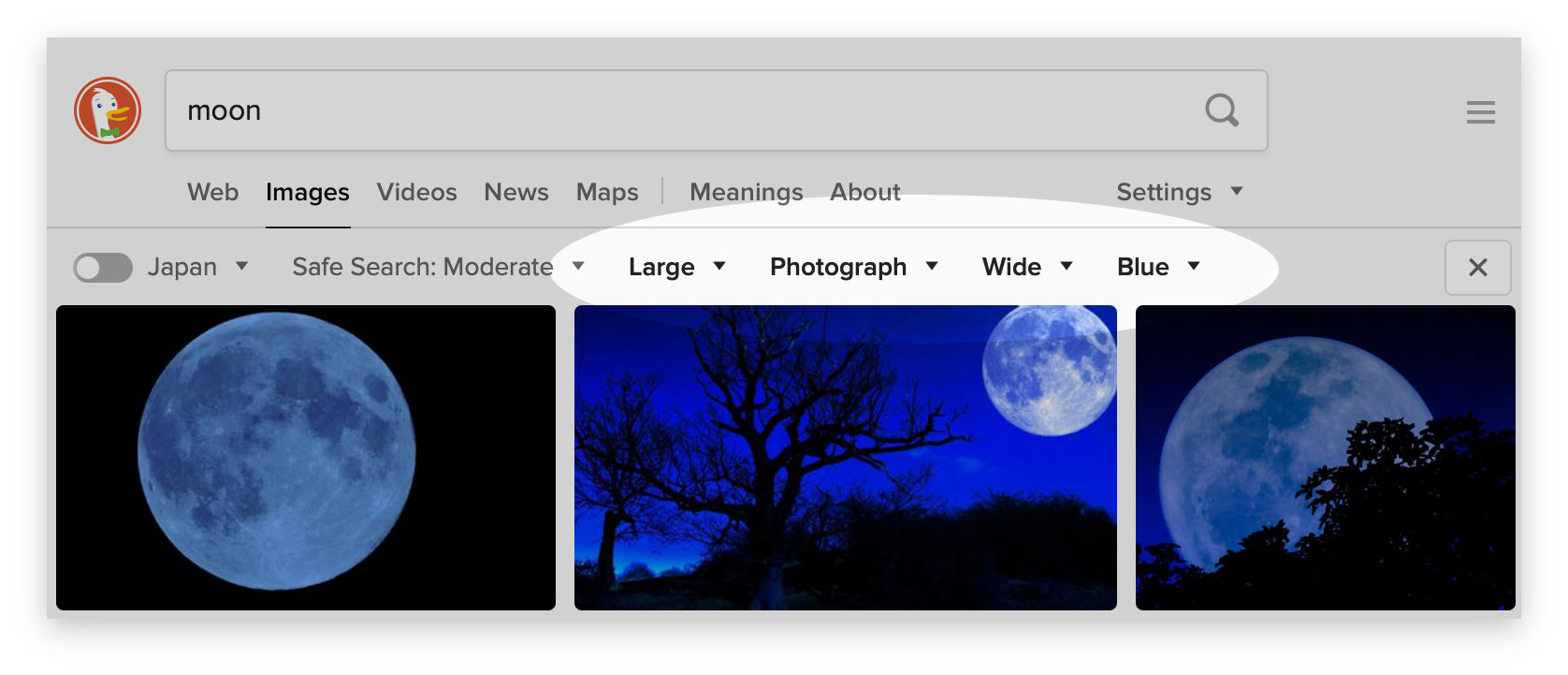 Or if you're looking for long, high definition, Creative Commons-licensed videos of train rides, we can do that too!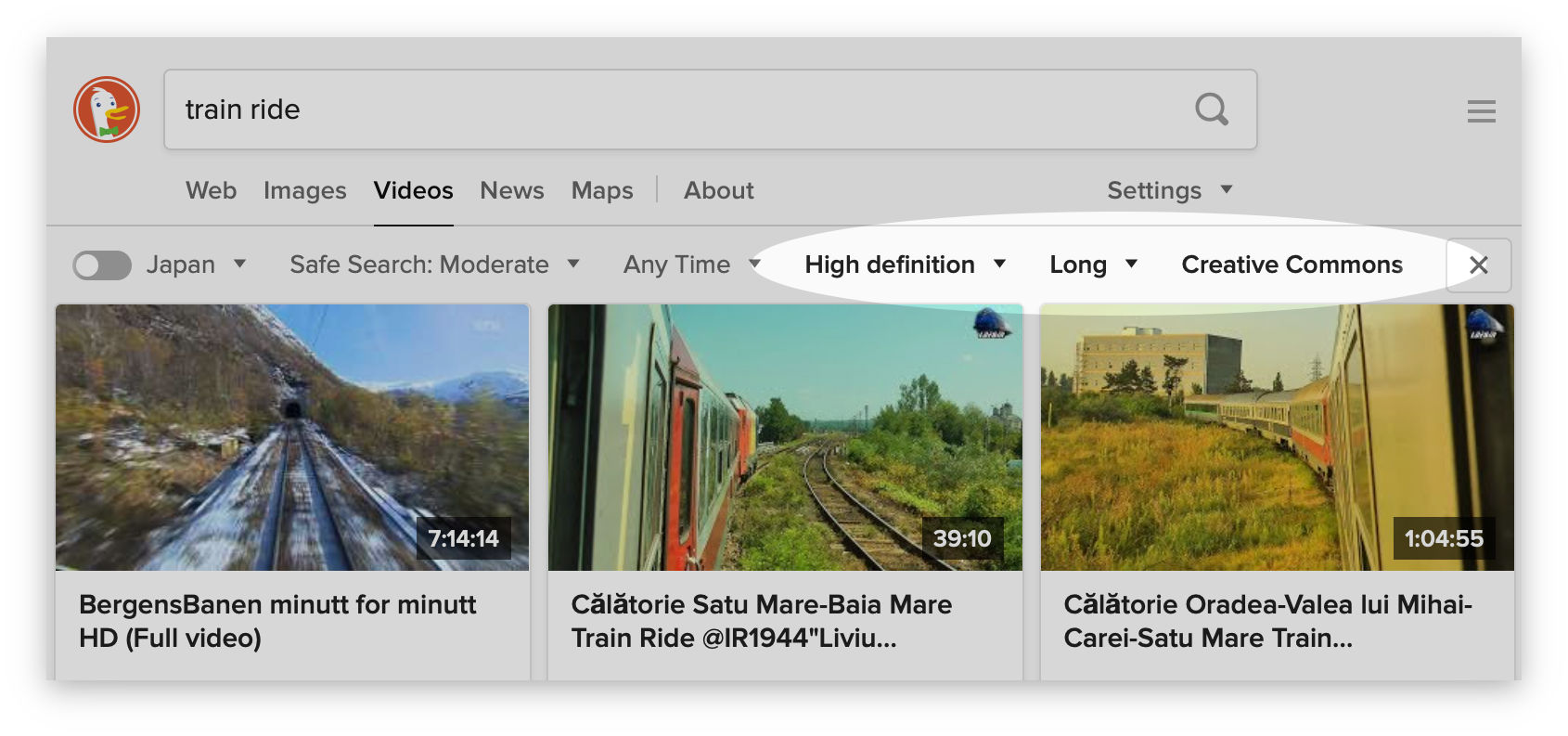 ---
Feature: Dark Theme Refinements
What changes to the dark theme should users look out for?
The most obvious thing is the beautiful new color scheme! Our talented designer Thom started this process by defining a color palette that was optimized for readability. This allowed us to establish a consistent visual hierarchy where we can subtly call out important areas of the search results pages like our Instant Answers without distracting from the rest of the text on the page.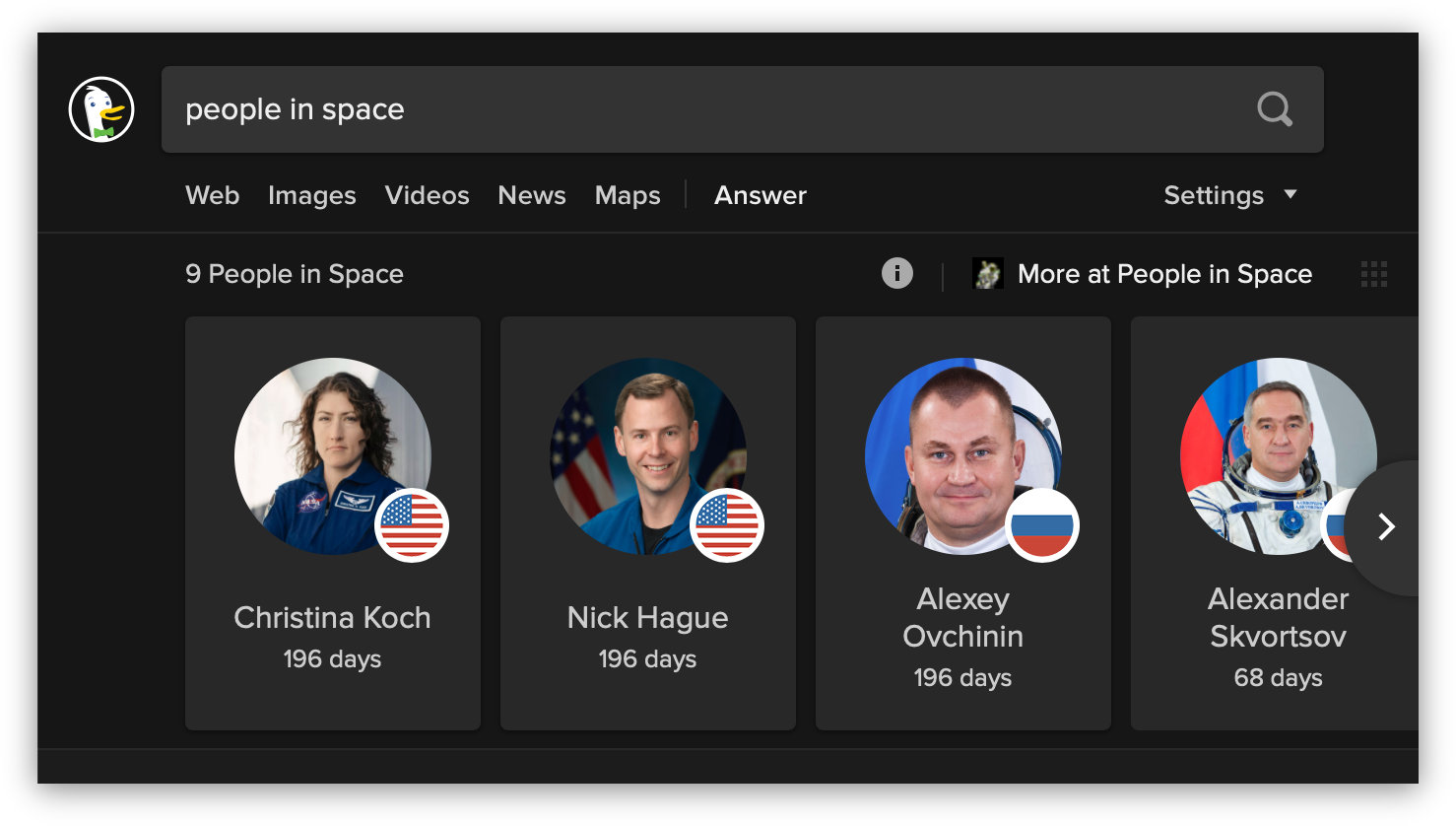 What was the reasoning behind the changes?
We love our dark theme, and we know that many of you do as well, so we wanted to give it a refresh to match many of the improvements we've been making to our default theme. With several web browsers introducing support for detecting the OS theme preferences, we thought the timing was perfect!
I have my OS set to dark mode. Will DuckDuckGo detect that?
Absolutely! If you're using the default light theme, DuckDuckGo will match your OS theme automatically! If you've selected a different theme (or have customized your theme) you can open the settings dropdown on the SERP and click the theme that matches your OS theme, and DuckDuckGo will begin matching your OS theme automatically moving forward.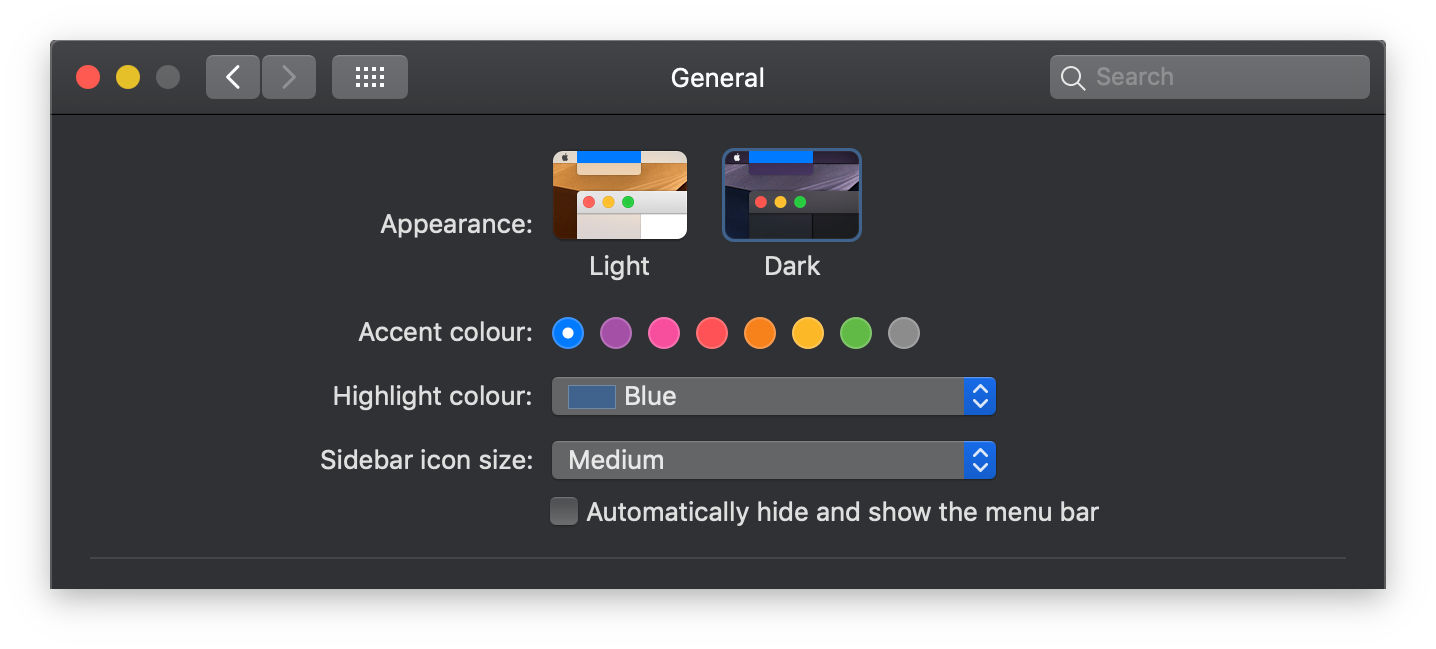 What if I want to add my own tweaks to the theme?
You can tweak the theme to your heart's content at https://duckduckgo.com/settings#appearance!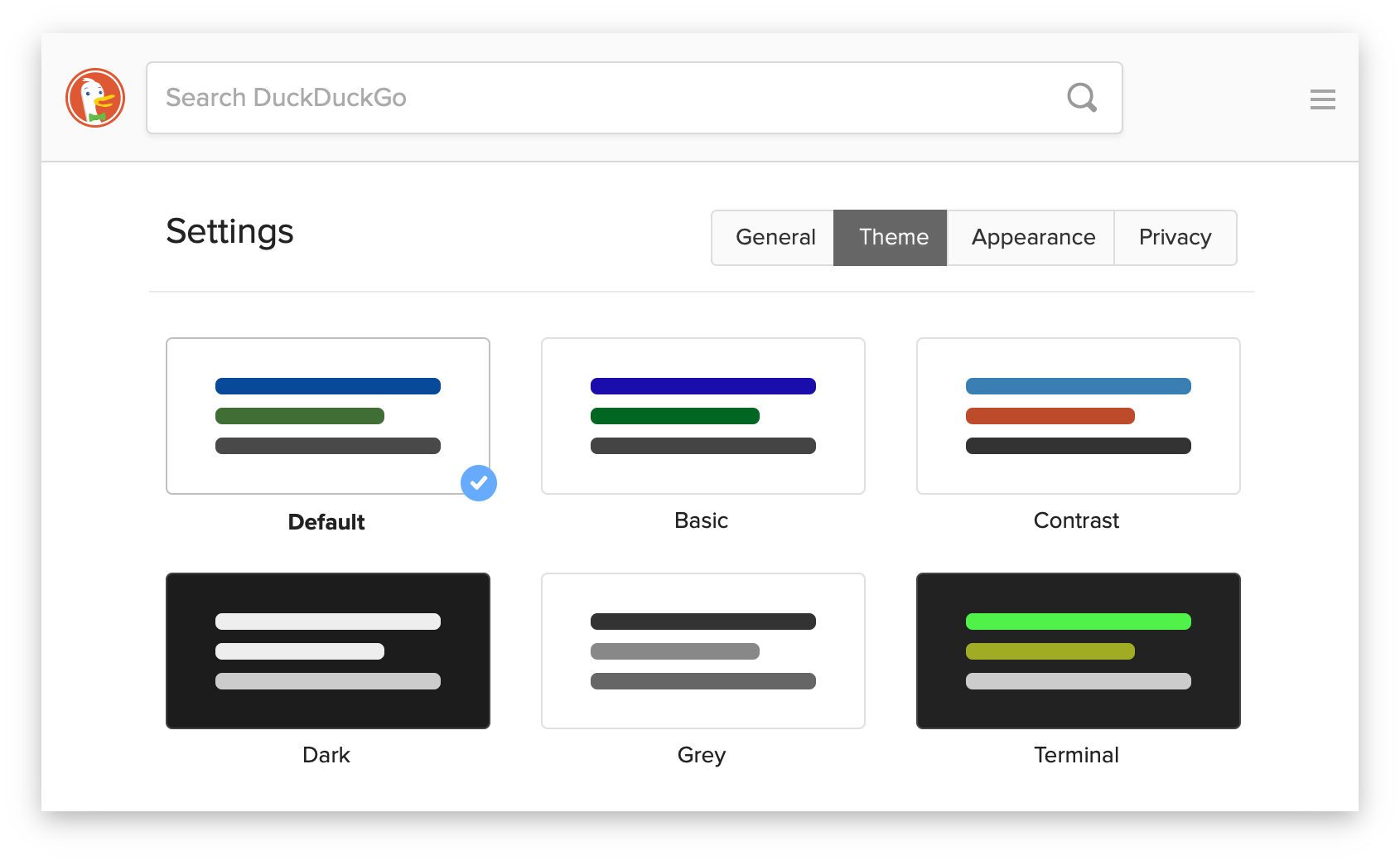 Are there plans for more themes or other design updates?
We're always tweaking and updating DuckDuckGo to offer the best experience possible, so keep an eye out for changes and send us your feedback — we'd love to hear from you!
---
Feature: Servers in the Indian Subcontinent
Team Member: (prefers to stay anonymous)
What new region has been added?
The new region is Mumbai, covering users mostly from India, but also many others who are now closer to this region than other points of presence of our infrastructure.
How will it affect me?
You should expect better a response time of our search engine if you're close to this region. In other words, faster search results!
Does this mean my personal information is now stored in Mumbai?
No, as DuckDuckGo doesn't store any personal information. Your searches are still anonymous, you'll just be connecting to our servers in this region if it happens to be the closest to your physical location.
What regions do you have servers in already?
United States (Virginia, California), Europe (Ireland), Australia, Singapore.
Where are you planning to add servers next?
We do not have active plans yet but it usually depends on many factors, so it's only a matter of time before we prioritize our next region.
---
For more privacy advice follow us on Twitter, and stay protected and informed with our privacy newsletters.