App Tracking Protection Beta is Now Available to All Android Users
App Tracking Protection is now open for all Android users. It's a beta feature in DuckDuckGo for Android that helps block 3rd-party trackers in your apps, even when you're not using them.
New since the waitlist beta launch: you can see what personal data trackers are typically trying to collect before we block them (like your precise location, age, and a digital fingerprint of your phone). We've also improved performance, reduced app exclusions, and made our blocklist publicly available.
Start blocking 3rd-party trackers in your Android apps today: update to the latest version of the DuckDuckGo Android app, open Settings and select "App Tracking Protection" (under More from DuckDuckGo section), and follow the onscreen instructions.
App Tracking Protection for Android is launching into open beta today. It's a free feature in the DuckDuckGo Android app that helps block 3rd-party trackers in the apps on your phone (like Google snooping in your weather app) – meaning more comprehensive privacy and less creepy targeting.
With the App Tracking Protection 'Activity Report', you can see which 3rd-parties are trying to track you.

You may have heard of Apple's App Tracking Transparency (ATT), a feature for iPhones and iPads that asks users whether they want to allow third-party app tracking or not in each of their apps (with the majority of people choosing "not"). But most smartphone users worldwide actually use Android. So, we're offering Android users something even more powerful: enable our App Tracking Protection and we'll automatically block all the hidden trackers we can identify as blockable across your apps.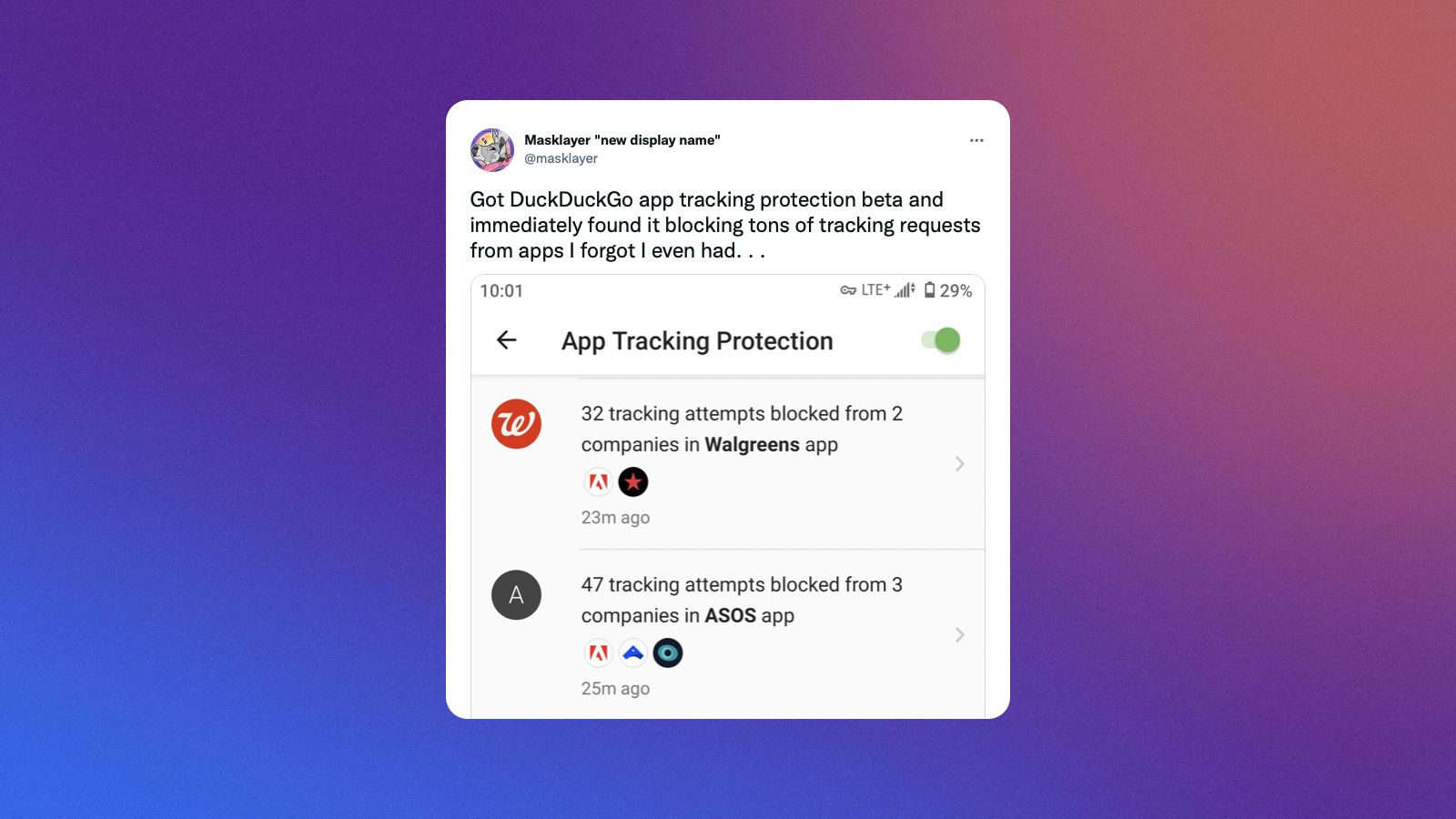 App Tracking Protection beta users have been surprised to see how many tracking attempts the feature is blocking.

The Trouble with App Trackers
The average Android user has 35 apps on their phone. Through our testing, we've found that a phone with 35 apps can experience between 1,000-2,000 tracking attempts every day and contact 70+ different tracking companies.
Imagine you're spending a lazy Sunday afternoon playing around with apps on your phone; keeping an eye on flight prices for a getaway (Southwest Airlines app), checking out a house your friend has been raving about (Zillow app), seeing if those concert tickets have gone on sale yet (SeatGeek app), and checking the weather (Weather Network app).
Within these four apps alone, 45+ tracking companies are known to collect personal data like your precise location, email address, phone number, time zone, and a fingerprint of your device (like screen resolution, device make and model, language, local internet provider, etc.) that can be used to identify you. With App Tracking Protection, you can now see exactly what the trackers are typically trying to collect, which we're helping block from happening.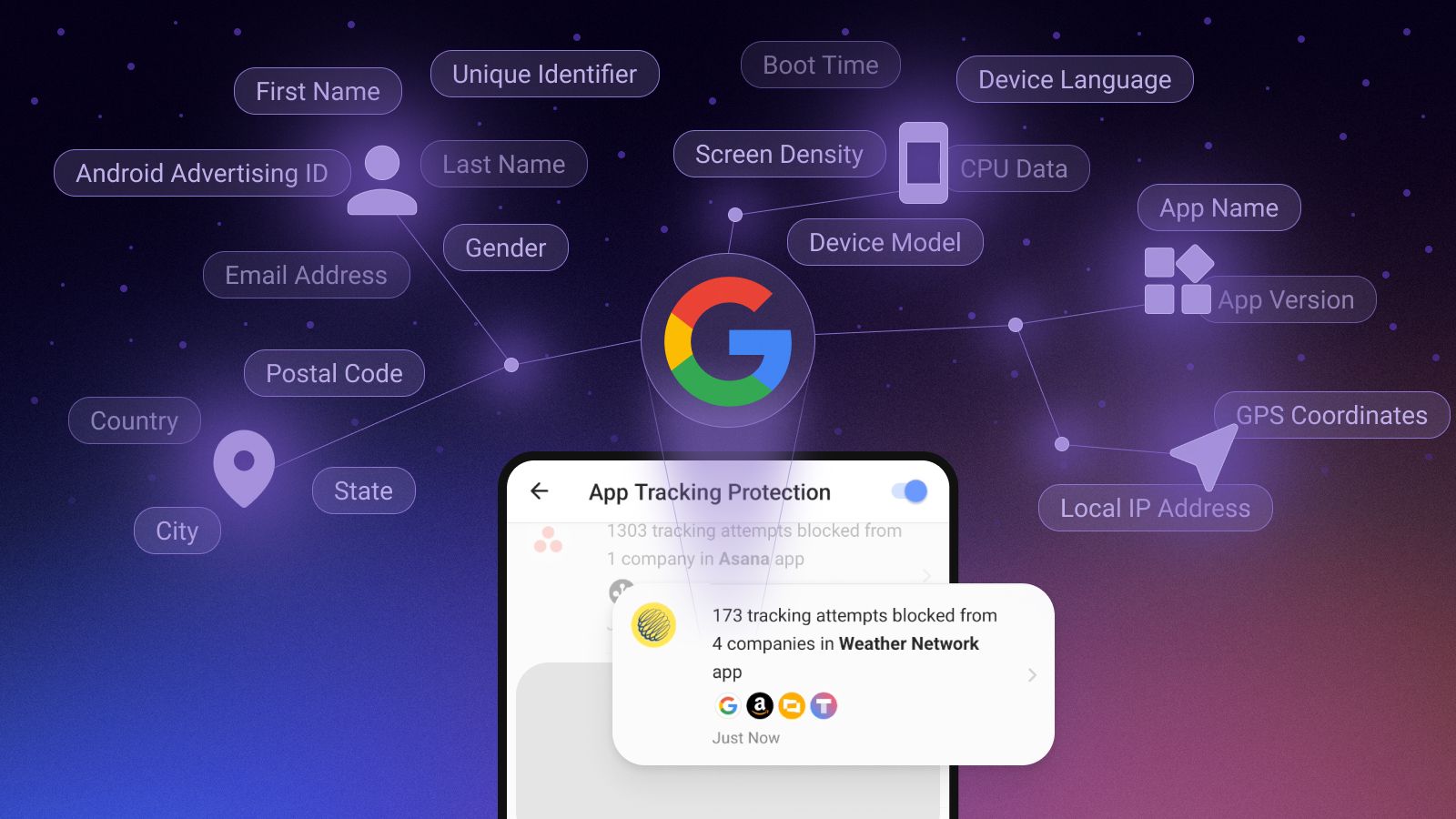 In the Android app, when you use App Tracking Protection, you can see the personal data we're blocking 3rd-party trackers from getting.

But what are they doing with all that information? Personal data companies like Facebook and Google use that information to build a profile that advertisers and content-targeting companies use to influence what you see online.
You could get ads about your mom's toothpaste brand after spending time at her house (no, not a coincidence – check out this thread), be bombarded with pregnancy-related ads and content after pregnancy loss or see drug-related ads or articles about diseases you learned about on WebMD. The examples are endless. It can feel like you're being listened to, but in reality it's not that someone is listening to your conversations, it's that your activity is being relentlessly tracked and analyzed!
The problems with all this information collection go way beyond so-called "relevant" (aka creepy) advertising and targeting. Tracking networks can sell your data to other companies like data brokers, advertisers, and governments, resulting in more substantial harms like ideological manipulation, discrimination, personal price manipulation, polarization, and more.
DuckDuckGo for Android, our all-in-one privacy solution, can help. Our app was already protecting you across search, browsing, and email. Now, with App Tracking Protection, you're getting a lot of protection from 3rd-party app trackers, too.
How App Tracking Protection for Android Works
When App Tracking Protection is enabled, it will detect when other apps on your phone are about to send data to any of the 3rd-party tracking companies in our app tracker dataset, and block most of those requests. And that's it! You can continue to use your apps as usual, and App Tracking Protection works in the background to block trackers whenever it finds them, even while you sleep.
The DuckDuckGo app on Android also offers a real-time view of App Tracking Protection's results, including which tracking network is associated with each app and what data they're known to collect. If you have notifications on, you'll also get automatic summaries if you want them.
To keep you up-to-date, we send automatic summaries about the app tracker blocking happening behind the scenes.

App Tracking Protection uses a local "VPN connection," which means that it works its magic right on your smartphone and without sending app data to DuckDuckGo or other remote servers. That is, App Tracking Protection does not route your app data through external companies (including ours).
We Still Want to Hear from You!
As we work through the beta phase, there are a small number of apps being excluded because they rely on tracking to work properly, like browsers and apps with in-app browsers. Throughout the waitlist period, we've reduced this number by half and also dropped the exclusion for games. We look forward to reducing this list even more.
To send us general feedback or report issues with the DuckDuckGo app: open Settings > Share Feedback (in the Other section). ‌‌‌‌If you run into issues with another app on your smartphone as a result of App Tracking Protection, you can disable protection for just that app under "Having Problems With An App". You'll then be asked to give details of the problem you experienced. Your feedback greatly helps our team continue improving App Tracking Protection and we appreciate it!
Get Started:
To get access to the beta of App Tracking Protection, find it in your settings.
Download DuckDuckGo for  Android  (or update to the latest version 5.143.1).
Open Settings > App Tracking Protection (in the More from DuckDuckGo section).
Go through the onboarding (including allowing the VPN connection) and you're all set!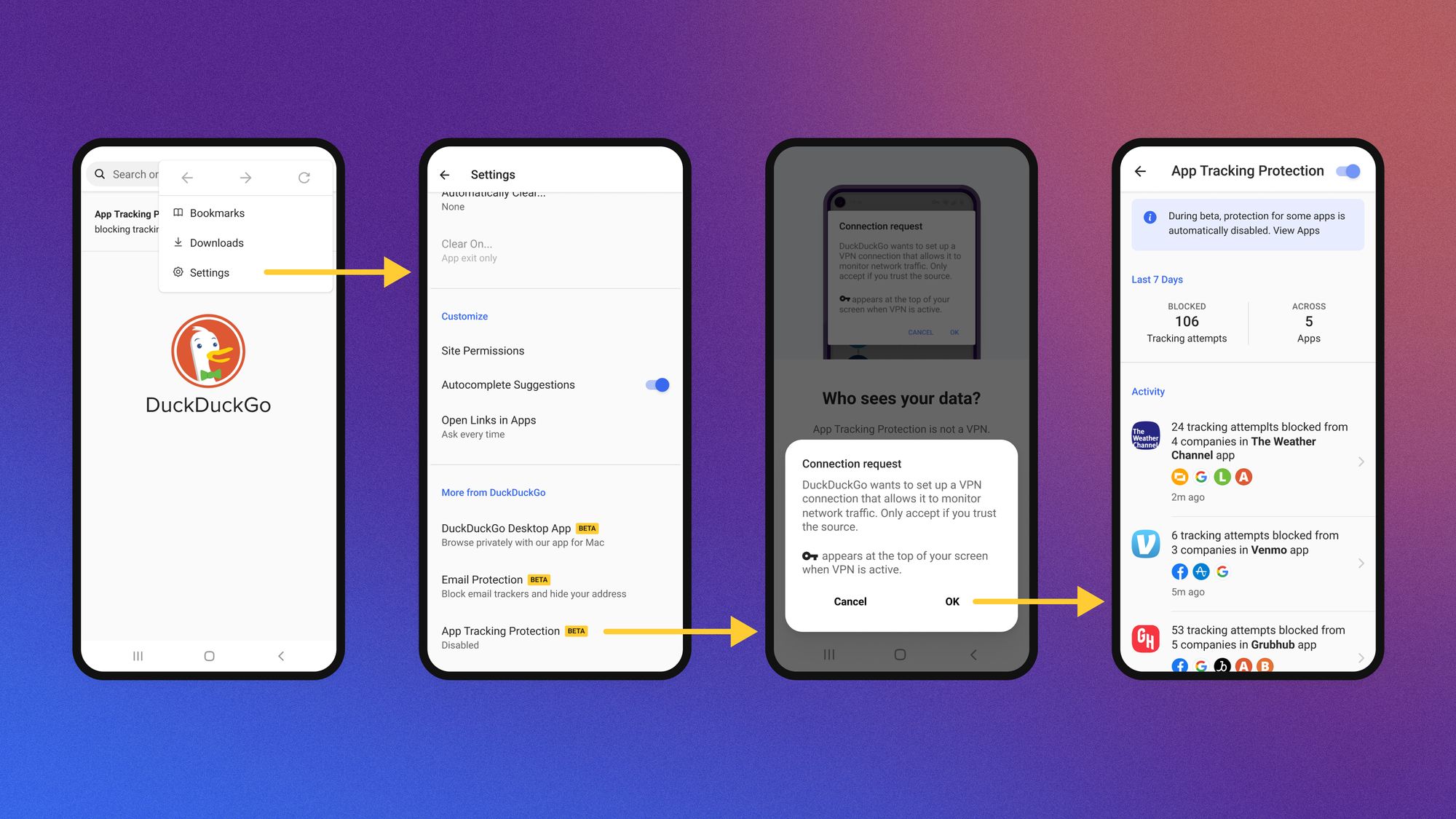 Signing up is easy! Here are four of the simple steps to automatic app tracker blocking.