2018 in Review: A Breakout Year for DuckDuckGo and Internet Privacy
From where we stand, 2018 was a breakout year for online privacy, the likes of which we haven't seen since the surveillance revelations of 2013. In this yearly recap post, brought to you on Data Privacy Day, we're honored to share that last year was DuckDuckGo's best year yet.
In 2018, we're most proud to have taken a giant step toward our vision of setting a new standard of trust online by expanding beyond private search to also protect you while you're browsing the Internet. Early last year, we released a browser extension and mobile app, both of which now offer best-in-class built-in tracker blocking, smarter encryption, website privacy grades, and of course, private search. We bundled together all of the privacy essentials you need to get seamless privacy protection because reclaiming your privacy should be as easy as closing the blinds!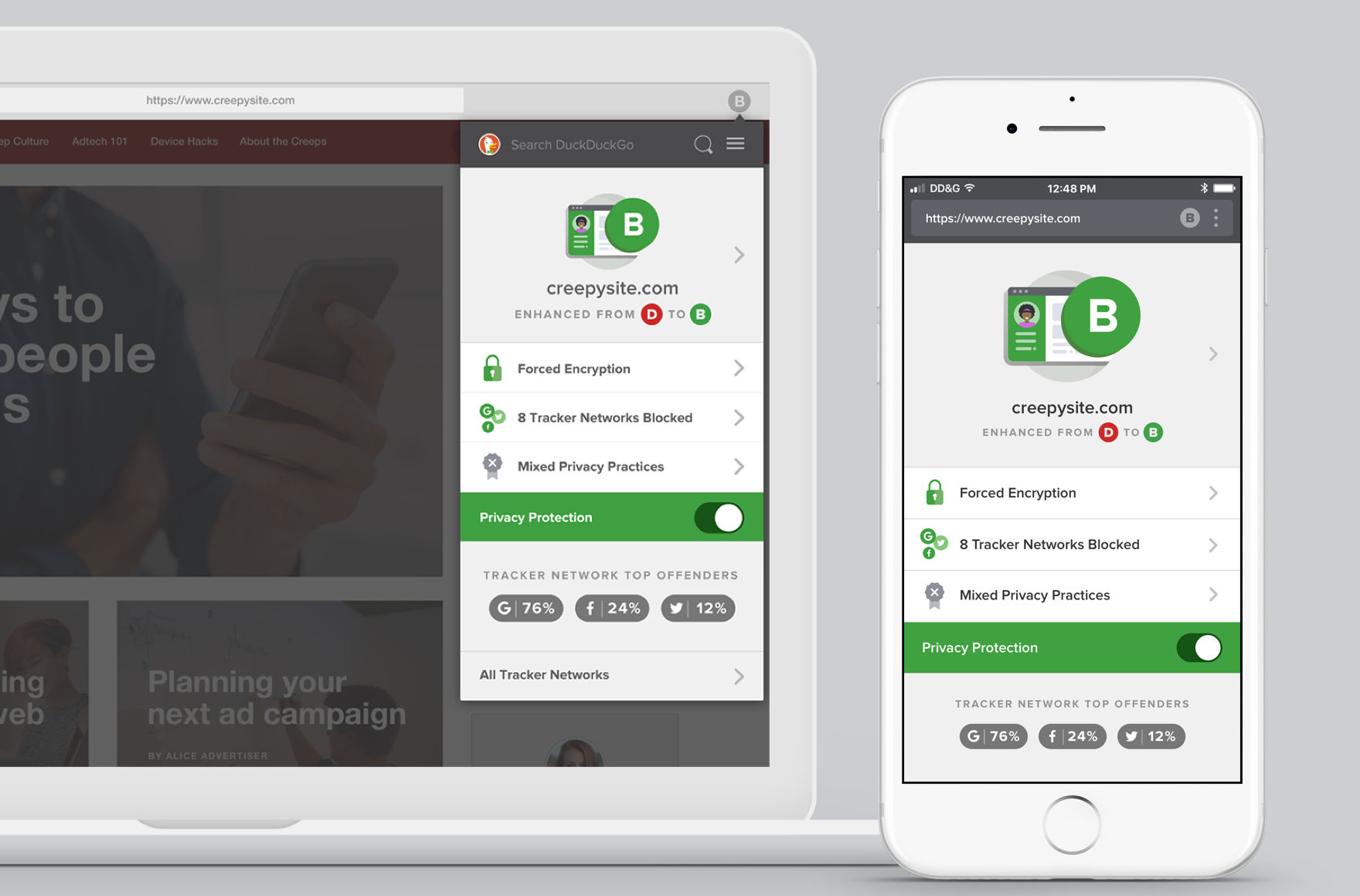 In terms of growth, 2018 saw our average daily private searches leap 63%, from 19 million to 31 million. To put things into perspective, that's 723% growth in average daily searches since the privacy zeitgeist of 2013.
And, 2019 has already kicked off with new traffic records: this month we broke 36 million daily private searches for the first time. This exciting achievement came a mere two weeks after we crossed the 35 million daily search mark.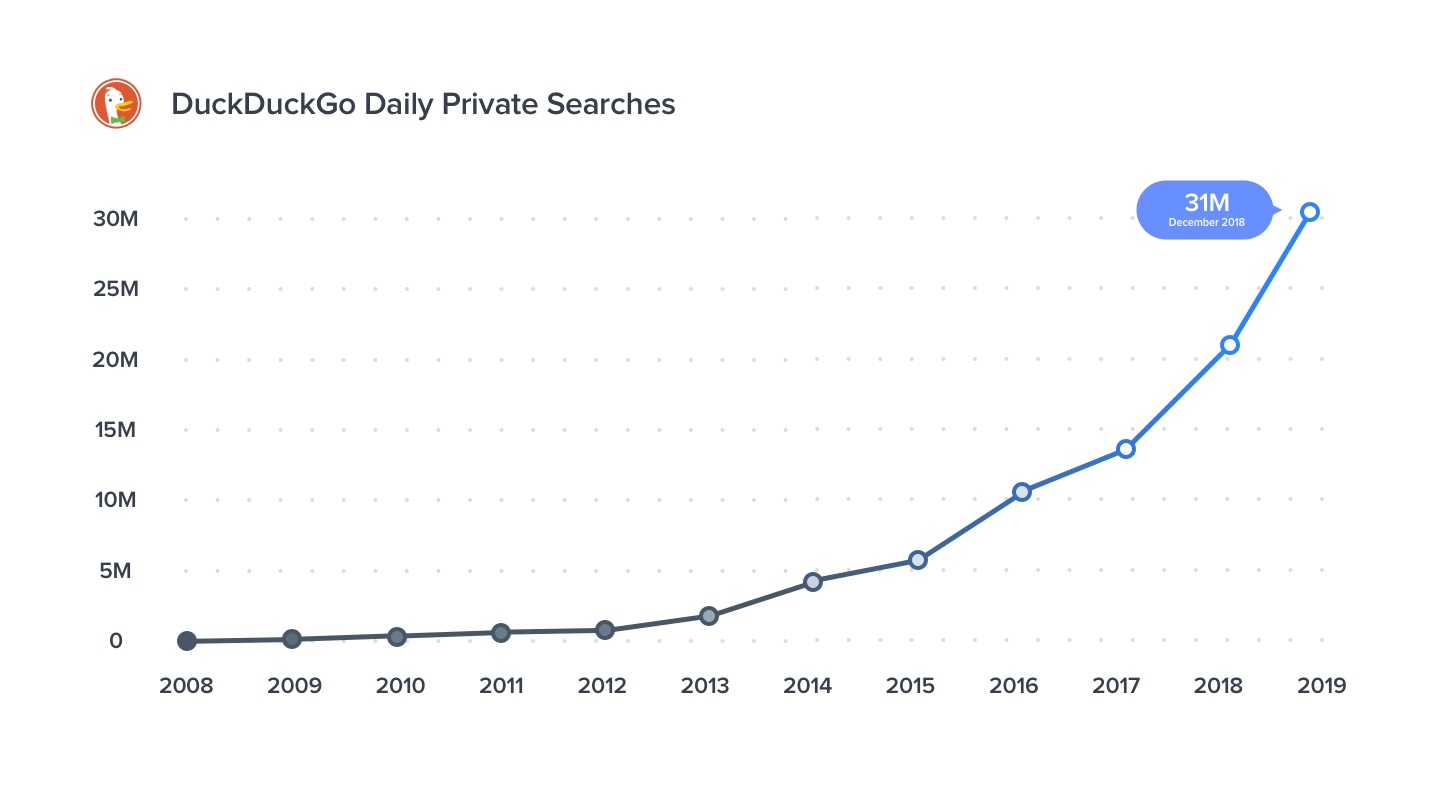 Our outsized growth in 2018 was inextricably connected to the groundswell of privacy interest that characterized the year. Through research we conducted in 2018, it became very apparent that more people are searching for privacy-focused alternatives, and that there is a need for more education on how to take control of your privacy online, as major tech companies like Facebook and Google revealed huge breaches of consumer data. For instance, our research highlighted that:
2018 also saw DuckDuckGo deepen existing partnerships with leading browsers and proudly become the default search engine in private browsing mode in Vivaldi and in Brave. This is a major step in privacy protection because most people don't realize how vulnerable they are when they use private browsing mode with a non-private search engine. We also established a partnership with Canadian-based OMERS Ventures, part of the $95 Billion global OMERS pension fund, to help expand our global reach.
Finally, we donated $500,000 to help advance privacy rights and tools. This was truly exciting, especially because many of you helped to raise an additional $142,482 through our crowdfunding campaign, meaning a grand total of $642,482 was raised to directly benefit privacy focused non-profits and organizations like The Tor Project and The Freedom of the Press Foundation.
2018 was, without a doubt, a landmark year for DuckDuckGo. Throughout the year, we also continued to make improvements to our search results, including a large focus on delivering better news results and local listings. And we're already making big strides in 2019, including integrating Apple Maps into all map and address-related searches on DuckDuckGo. As always, we thank you for your support, your feedback, and for helping us set a new standard of trust online. We have even more in store for this year so you can continue to take control of your privacy online. Stay tuned!
---
For more privacy advice follow us on Twitter, and stay protected and informed with our privacy newsletters.